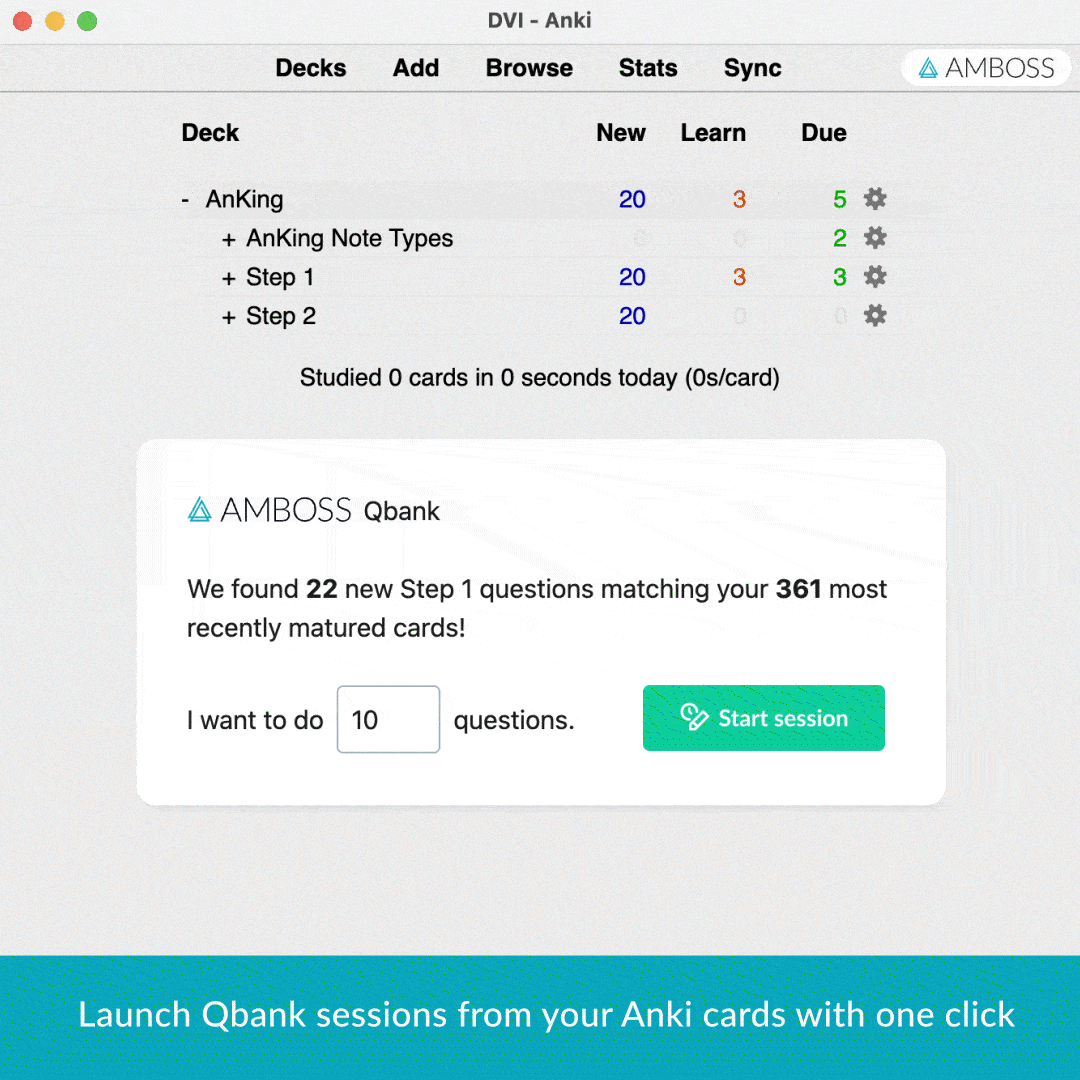 Get early access to the Anki Qbank Add-on
2,000+ students are already in line. Sign up below to be among the first to get access when it's released. 
AMBOSS needs the contact information you provide to us to contact you about our products and services. You may unsubscribe from these communications at any time. For information on how to unsubscribe, as well as our privacy practices and commitment to protecting your privacy, please review our Privacy Policy.
Close the entire learning loop
Learn
Dive into the AMBOSS library and learn everything you need to know for your Step exams.
Remember
Use Anki to never forget anything you learn, and get pop-up explanations from the Amboss library while going through your Anki cards.
Apply
Launch content-matched Qbank sessions from Anki to apply your knowledge and master every topic on the USMLE® curriculum.
Share the news with your peers!
Coming soon: AMBOSS Qbank sessions, launched instantly from your Anki flashcards! Sign up to try out the new add-on feature: go.amboss.com/anki-qbank-msg
Click to share
FAQs
This new version of the add-on will allow you to automatically launch Qbank sessions that match the content from your Anki flashcards – lightning fast! No more searching or filtering for the right questions to match the material you're reviewing. You'll now be able to simply select Anki cards and with one click, find all the relevant AMBOSS Qbank study material.
You will need an AMBOSS account and membership to test out the new features that connect Anki and the AMBOSS Qbank.
If you already have an account but are not yet an AMBOSS member, you can simply upgrade to a membership.
If you are new to AMBOSS, start by creating an AMBOSS account. You can then upgrade your membership access before the end of your 5-day free trial.
If you have any questions about your access, don't hesitate to contact our customer support team who are very happy to help you!
By submitting your email, you are joining the waitlist for early access to the features. We will release early versions of the features in fall of 2022, so you can give it a try and let us know what you think!
Feel free to contact our team over on the Help Center with any questions or share what you'd like to see coming from the AMBOSS x Anki universe next. We're here to help!