AMBOSS is driven by its mission to empower all doctors to provide the best possible care. It aims to serve those pursuing medicine as well as those already in the field as an extensive medical knowledge resource.
AMBOSS was founded by doctors, for doctors, in 2012. A group of young residents became frustrated by the limitations of the medical education system: the multitude of disconnected resources available led  to more time spent researching topics than mastering them. They took matters into their own hands and together completely reshaped the path to becoming a physician. They created AMBOSS, a digital medical resource that could single-handedly support students in the classroom as well as later on as a clinical companion.
In a few short years, leading doctors from Harvard, Yale, and Stanford joined the AMBOSS team and focused their efforts on developing materials specific to the USMLE® Step and NBME® Shelf exams, and a successful US launch in 2017 coincided with headquarters opening in New York.  Since then, AMBOSS has grown from a small team to over 300 highly trained physicians, scientists, and software engineers. Together, they leverage technology to provide accurate, while accessible, medical knowledge to physicians around the world.
Today, more than a million healthcare professionals in over 180 countries rely on AMBOSS. Over 50 medical schools around the world, including the New York University School of Medicine (NYU) and Yale University, have adopted it as an essential study resource. In addition, Helios, the largest hospital group in Europe, rolled out AMBOSS as the foundational medical reference for its doctors.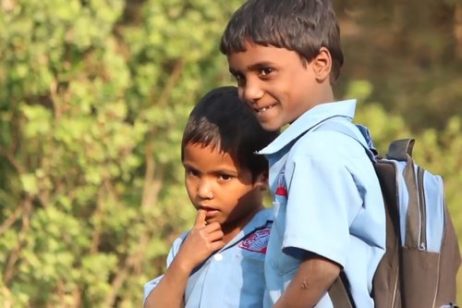 Building an Elementary School with the
Indian Institute of Mother and Child
Founded by Dr. Sujit K. Brahmochary, the Indian Institute of Mother and Child, or IIMC, focuses its efforts on providing medical care, improving education for children, and promoting financial independence, particularly for women. It has been offering assistance to one of the most underserved regions of India since 1989.
We share Dr. Sujit's vision of sustainable development and how it can support the local population through education and committed medical care. Many of AMBOSS' own physicians have personally contributed to IIMC, and their time with IIMC's employees and volunteers has left a lasting, inspiring impression. AMBOSS is backing the NGO's efforts to build an elementary school in West Bengal with a special initiative.
The AMBOSS Scholarship Program –
A Global Education Fund Worth $2 Million
We believe it's crucial that high-quality medical knowledge and resources are made accessible to all students. Doing so means removing the barrier of financial hardship that so many must face. Our Global Education Fund provides $2 million worth of AMBOSS access plans (with access to the Library, Qbank, and Analysis features, including mobile Apps for Android and iOS) to those most impacted by adversity in their work, school, and community environments.