AMBOSS
Step 1 Self-Assessment Week
Registration for the free AMBOSS Step 1 Self-Assessment, 2023, is closed. Click below to get updates about upcoming self-assessments. 
The Step 1 Self-Assessment offers you a pass/fail result, study recommendations, and a bonus three-digit score.
get notified about future events
Take the Step 1 Self-Assessment
Warm up for exam day with a faithful replica of the actual NBME® exam.
Gauge your knowledge
Get a pass/fail result and performance breakdown—plus a bonus three-digit score.
Adapt your study plan
Course-correct with study recommendations hand-selected to meet your needs.
Just like the real thing
Get a feel for the actual USMLE® Step 1 with a self-assessment that mimics its difficulty and structure. You'll go through 4 blocks of 40 questions each in a simulation of the NBME®'s interface and timed format.

In addition to building your exam-day stamina, you'll get a 3-digit score report that includes your passing probability and a list of personalized high-yield topics where you should focus.   
Get notified about future self-assessments
Teekz
Step 1 Self-Assessment Week 2021
Touro University College of Osteopathic Medicine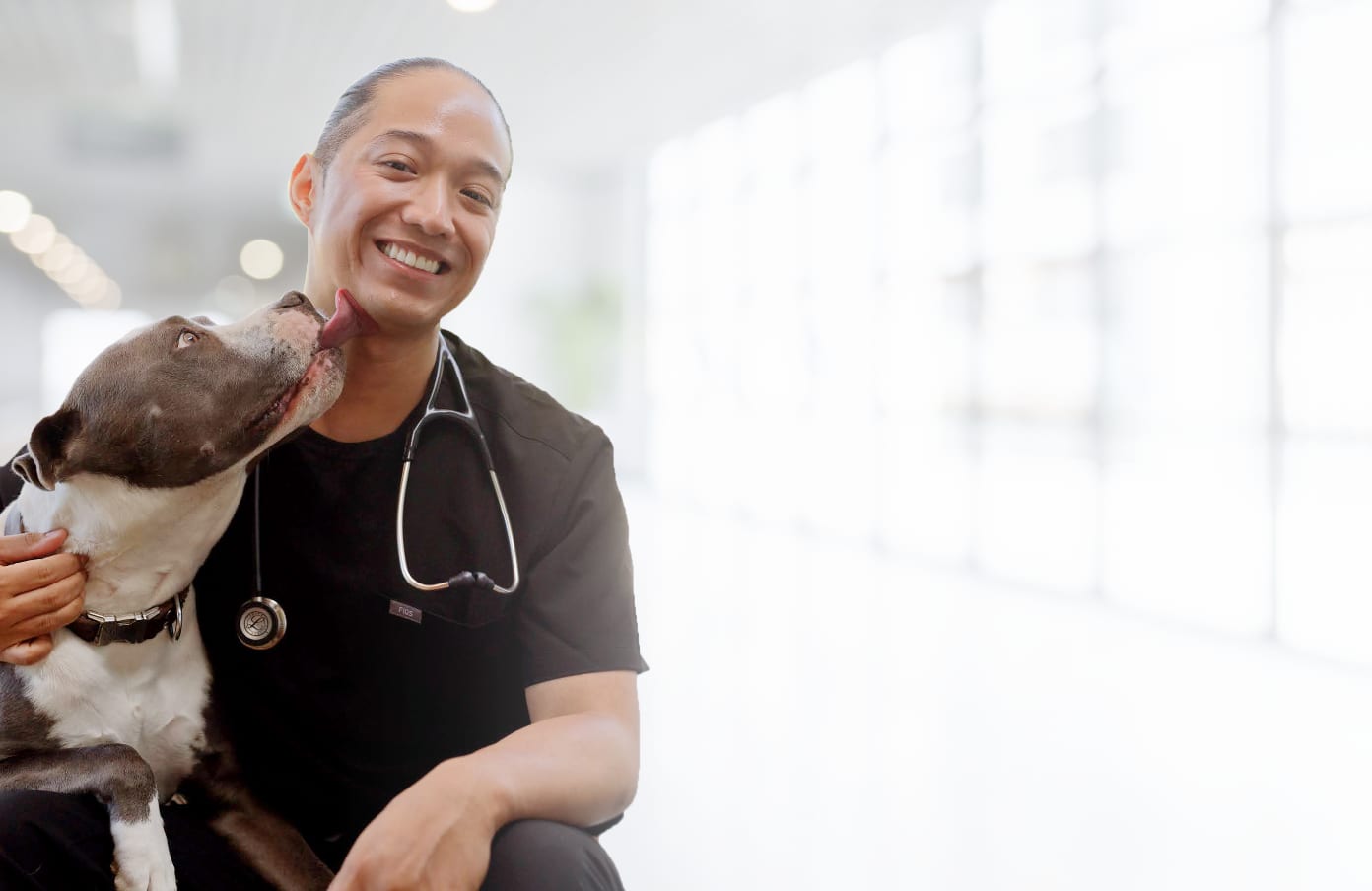 Get ready for dedicated
Check out this article on how to make the most of AMBOSS during Step 1 dedicated. Sean Robert Huff, MD, shares his top tips for success, so you can feel confident on exam day: go.amboss.com/Step1-dedicated-msg
Click to share
Tap to share
Medical students across the world 
attest to the self-assessment's rigor and exam-day accuracy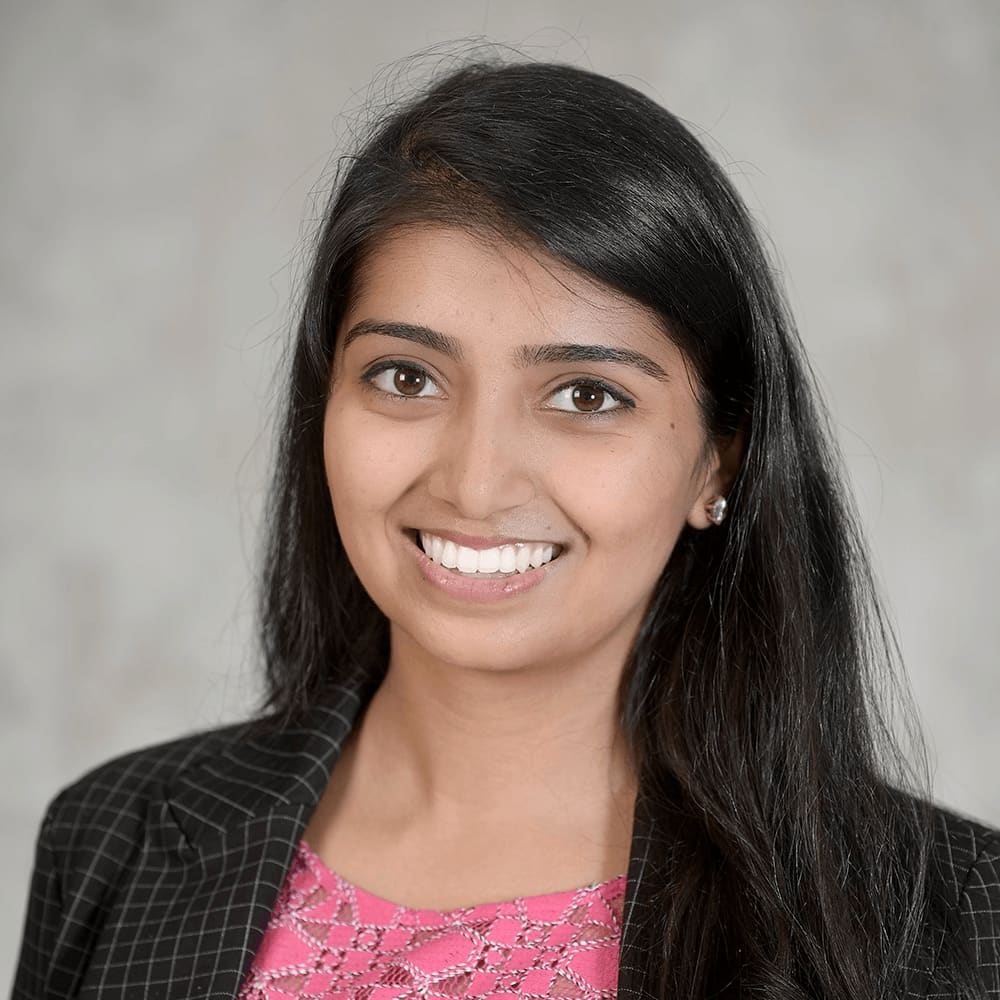 "AMBOSS' self- assessment was a great transition from passive step studying through classes to focused dedicated study period. This exam gives you a taste of test day and a baseline of where you are going into dedicated...It's really hard to find good questions with good answer explanations, but this self-assessment has them!"
Aaishwariya G., class of 2023
University of Central Florida College of Medicine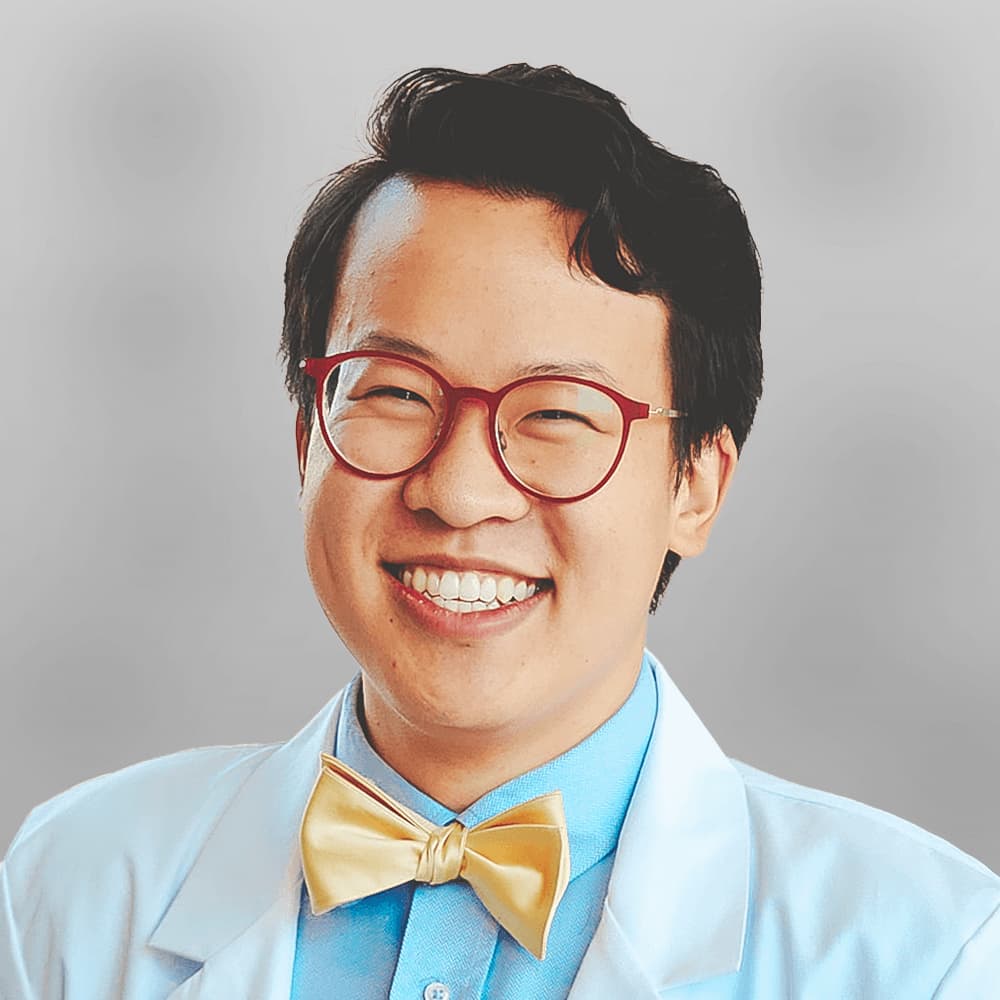 "…[W]hen it came to Step 1 prep, the self-assessment was the perfect first step in getting ready for dedicated studying; not only were questions well made and the test at the perfect time to give me a "baseline" of where I was at knowledge-wise, but also, the in-depth explanations (linked to the AMBOSS library) provided an unparalleled review depth and integration after receiving the score report."
Samuel C.,
MD-PhD Graduate Trainee (GS-1)
The University of Alabama at Birmingham Heersink School of Medicine
"AMBOSS was really a one-stop shop for my [Step 1] study...I took the Self-Assessment in Feb (that AMBOSS provides to everyone for free!), and had a good idea of where I stood preparation-wise months before the actual exam. It was so helpful to know what I needed to work more on that much in advance, so that I could really pinpoint where I wanted to spend my time and tailor my schedule."
Sandy S., class of 2023
University of Texas Medical Branch at Galveston School of Medicine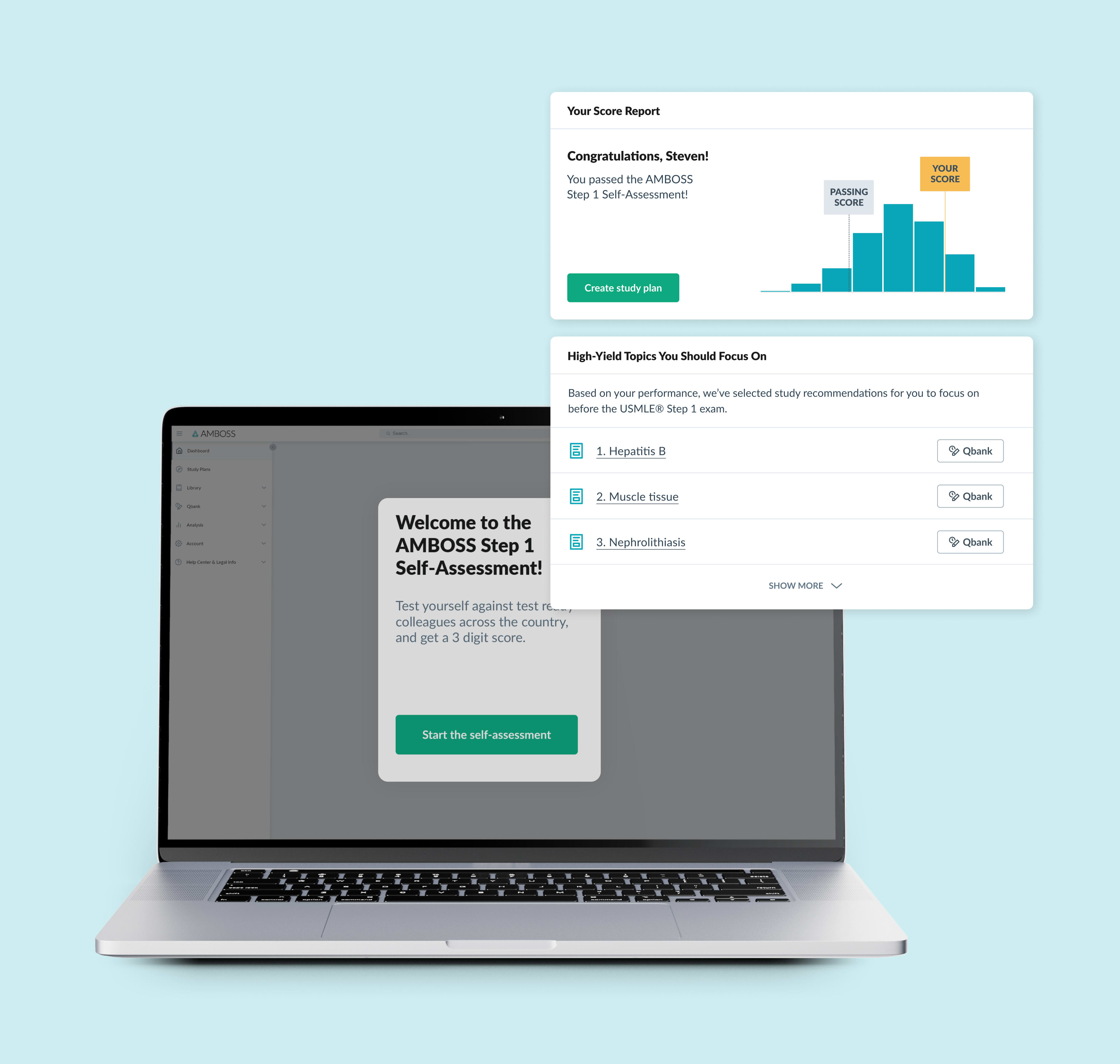 Go beyond a self-assessment
Understand the why and how 
Read up on the explanations behind each question you encountered in your completed blocks. 
The next step in your prep
Break down your Step 1 strengths and weaknesses with a detailed self-assessment performance analysis.
Ready to conquer on exam day
Manage your remaining prep with personalized study recommendations based on your performance.
What to expect during Step 1 Self-Assessment Week
Registration
Reserve your spot and get your classmates to join the big event!
Start
Once it begins, you've got 10 full days to complete all 4 blocks.
End
Complete the self-assessment and use your free access to explore AMBOSS.
Results
Receive your pass/fail result, study recommendations, and 3-digit score.
AMBOSS Step 1 Self-Assessment Week Access
The AMBOSS Step 1 Self-Assessment is a simulation of the USMLE® Step 1 exam. It consists of four question blocks of 40 questions each and is presented in the NBME®'s official timed format.

Once it starts, you can take the self-assessment any time during 10 days. You'll have unlimited free access to all AMBOSS Step 1 content during this time, as well as for a few days after it, so you can review your score report. 

You can begin the Step 1 Self-Assessment within your account if you signed up during the registration phase. Once you follow the link, you'll be directed to create an AMBOSS account if you don't yet have one. Once your account is created, you can start the self-assessment. If you do have an account, you will be directed to the start of the assessment within the platform.
The AMBOSS Step 1 Self-Assessment Week takes place once a year, usually in February. 


The report of this exam replicates that of the actual Step 1 exam. This is the only time of the year when the assessment and its unique questions are available, with over 75% of the Step 1 cohort joining and receiving a score report two to three days after the self-assessment week concludes.


Yes, you'll need an AMBOSS account to access the self-assessment. If you don't have an AMBOSS account yet, create yours for free here. It only takes a few minutes to verify your email address and complete your profile.
Taking the AMBOSS Step 1 Self-Assessment
The AMBOSS Step 1 Self-Assessment is not available at the moment. But you can leave your email here to get notified about upcoming events. Once you register, we will send you an email notification informing you about the details of the event and with the link to access the assessment content. 
Unfortunately, it isn't possible to take the self-assessment before the advertised dates. The AMBOSS self-assessment is designed as a community-based event that is available for a limited time only. The unique self-assessment questions—that are representative of the exam distribution—are available on the platform only during the stated week. You will receive your score report on the advertised date, the same time as everyone taking the assessment with you. 
Yes, our self-assessment reflects the relative distribution of topics on the actual USMLE® exam. Accordingly, the Step 1 Self-Assessment will reflect the NBME®'s announcement that communication and interpersonal skills questions will feature more prominently on the exam.
You will have 60 minutes to complete each question block, so make sure to give yourself enough time to complete one before you sit down to take it. If you need to pause the exam for some reason, you are welcome to do so. That said, we recommend you complete the entire block in one sitting so that you are able to most effectively simulate the actual Step 1 exam.
You can, but you don't have to. You can split the self-assessment up into chunks and take each block at any point throughout the week. That said, we recommend that you complete the exam in one sitting, since this is the best way to simulate the actual exam and build your stamina.
The self-assessment exam is made up of four blocks, each including 40 questions. After answering all 40 questions in a block, you will have the option to review the completed block's correct answers and explanations or to continue with the rest of the exam.

You will also be able to go back and see your completed blocks and review your answers at any time during the self-assessment week.
Yes, you'll be able to access and review your completed self-assessment question blocks for some time after the event is over, as long as you have access to AMBOSS. You won't be able to change any of your answers, but you can review your recommended articles, and start a Qbank session based on those articles or your relative strengths & weaknesses. Your report will be available in your account for one month once it is released, so make sure you delve into all the topics! 
The self-assessment is not available on mobile apps. Although it is possible to take it on the web browser of your mobile device, we strongly recommend taking it on your desktop device.

Taking the self-assessment on a desktop will better mimic the real testing environment of the USMLE® Step 1 exam, which will not be available on mobile devices.
The questions were previously in our Qbank as dedicated Step 1 questions, however, we removed them from the Qbank a few months ago to ensure that students who take our self-assessment will be able to test themselves with fresh questions. Because of this, if you started preparing early, it may be possible that you see some of the same questions.
Most of the questions are the same as the previous self-assessments. This is to make sure that you are getting the most accurate prediction possible and because we are confident that these are the most representative questions of what you will see in the actual exam.

That said, there will be some differences as our team is constantly updating our questions. This year will also feature some new communications questions to reflect the Step 1 topic distribution.
Yes, there will be future self-assessments! You can sign up to receive communication about future assessments on this page.
You must complete all four blocks of the self-assessment by the indicated deadline to receive your report. The report will be delivered via email two to three days after the self-assessment finishes and will also be accessible within the AMBOSS platform.
The self-assessment is based on the pass/fail format and will help you feel confident in facing (and conquering) Step 1. The topic distribution mimics the latest Step 1 content and exam regulations. Your report will be similar to the NBME®'s pass/fail format, and like last year, it will reflect the 2-point increase of the USMLE® Step 1 passing score. Due to popular demand, we will continue to report a 3-digit score to best support you and help determine where you stand in your preparation. See the results and analysis of last year's AMBOSS Step 1 Self-Assessment here.


With the right study plan and a reliable Step 1 resource, you'll not only confidently pass Step 1, but will also have the foundation you need to score high in Step 2 and, ultimately, match into your dream residency. Feel free to check out this blog post which discusses the Step 1 pass/fail format and how to prepare for it. 
Yes! Check out what students had to say about last year's AMBOSS Step 1 Self-Assessment here. Last year, over 75% of the cohort took part in the self-assessment - and over 97% of US medical schools were represented.


Feel free to check out the analysis of last year's results in this blog post. The self-assessment is adapted to the pass/fail format, and AMBOSS' own Dr. Ryan Colaço talks about what you should expect and how to prepare in detail here. 
Score Report and Analysis
Yes! The results of this year's self-assessment will be in the same format as the NBME®'s pass/fail report, so you can get an accurate estimation of how ready you are to pass Step 1.

Additionally, you will receive a list of recommended topics that is based specifically on your performance on the assessment and is optimized for the latest Step 1 format. These will help you focus on the high-yield topics that will have the greatest positive impact on your exam preparation.
The AMBOSS Step 1 Self-Assessment scores are calculated using the performance of self-assessment-takers that are within weeks of their actual USMLE Step 1 exam date as a calibration reference. The calibration is performed using the official USMLE Step 1 score distribution, and our questions are tested and have been scrutinized by students in prior years.

We're confident our questions are high-quality and representative of what you will see on the actual exam. Our chosen questions also reflect the relative distribution of topics on the actual USMLE® exam.

Check out this blog post for more details about how the score is calculated. 
Even though Step 1 is now pass/fail, over 95% of students surveyed said they'd still like to receive a 3-digit score! The score is a jumping-off point so you can gauge your progress and see what you need to do to comfortably pass Step 1 (and go on to score high on Step 2!).  
The completed self-assessment and score report will be available for you to review for one month after the self-assessment week has finished. As long as you have access to AMBOSS, you will be able to review your results anytime during this timeframe. Your free access will cover you for a few days after the score report is released.
Still have questions?
Find more information in our Help Center