Prepare for the SMLE with AMBOSS
A quick overview of the AMBOSS SMLE study plan and how to use it on our platform.
If you are studying for the Saudi Medical License Exam (SMLE), AMBOSS is here to provide you with everything you need to succeed! Submit your email on this page to get your free study plan. It will be available to you as a downloadable PDF and as a study plan directly built into the AMBOSS platform. The plan sets out all the topics you'll need to know – and each one connects to an AMBOSS learning card so you can work your way through the curriculum.
The AMBOSS knowledge library contains learning cards covering over 20,000 in-depth medical topics, which are updated daily by our editorial team of over 70 physicians. The learning cards are closely integrated with our question bank, comprising over 4,700 case-based multiple-choice questions so you can navigate seamlessly between resources and topics.
Please note: To use the study plan and visit the learning cards, you will need to have an AMBOSS account with access. If you already have an account, you can log in here. If you're new to AMBOSS, you can register for a free five-day trial here.  Happy studying!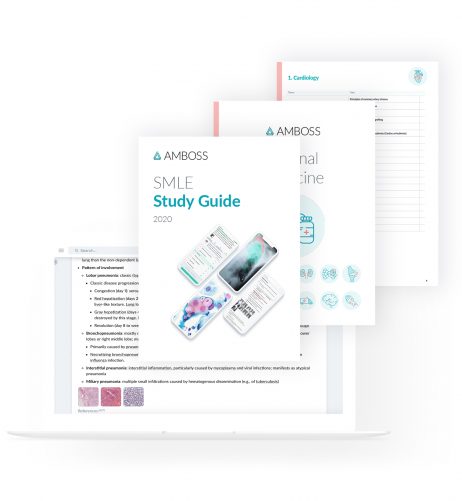 If you have any questions about using AMBOSS at your university or with your colleagues, feel free to send us a message at hello@amboss.com.