And What Makes AMBOSS Unique?
What is the history behind AMBOSS?
During our studies and as physicians, we were frustrated with the hassle of juggling multiple resources: Qbanks, review books, textbooks, lecture notes, personal notes, multimedia and lots of Google searches. Forced to buy separate and expensive QBank packages, we were disappointed that there was no way to track long-term progression. We had to start over with every new resource. By creating AMBOSS, we have solved all these problems and made the resource we wish we had during our studies—an all-encompassing, efficient platform combined with excellent teaching that can be customized for every learning style.
As it turns out, many people shared our frustrations. In just 5 years, AMBOSS has become the #1 European medical study resource. Already, 96% of German medical students and more than 70% of German-speaking medical schools have made AMBOSS their primary study resource. Since launching the English platform in Spring 2017, we now have more than 200,000 users in over 191 countries. So if you're as frustrated with your fragmented study experience as we once were, AMBOSS can help you, too!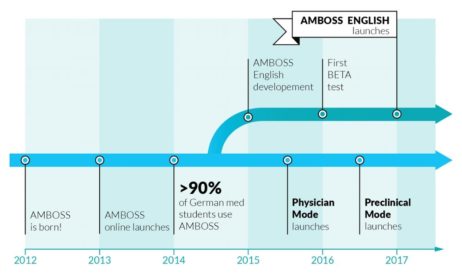 How is content created in AMBOSS?
With a firm belief in the collaborative process, we've developed our content via a rigorous internal peer-reviewed protocol consisting of over 50 physicians in collaboration with medical students who have scored in the top percentiles on their  USMLE® and NBME® shelf exams. It's our way of ensuring that all content is clear, relevant, and comprehensive.
Our review cards serve as the base of medical knowledge throughout the platform, which correlates to all the topics found in the USMLE® Content Outline, the NBME® Content Outline, and the objectives of our practice questions. Extensive research and testing are conducted to affirm that all material is perfectly aligned to meet the needs of medical students. Clickable references are also provided from credible, up-to-date sources such as clinical practice guidelines and medical studies. Moreover, we ensure that our Qbank content is challenging enough to provide the most efficient study experience. For instance, about 50% of users answer incorrectly on the first try, meaning they have the opportunity to learn 50% more!
We totally get it. Time and money are limited, and you're hesitant to potentially waste either by trying out new resources. If our many users, team of top-scoring physicians, and rigorous process of creating content that parallels the NBME® content outline are not enough to convince you, you can take matters into your own hands and try AMBOSS for yourself, free for 5 days. And if you do purchase, we offer a 30-day, money-back guarantee in case you're still not satisfied—that's how confident we are in our platform.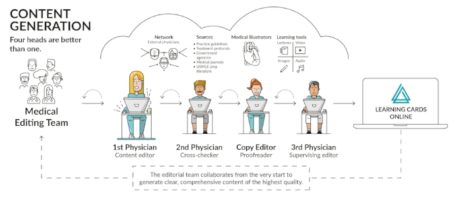 How are you different than other Qbanks (like UWorld)?
This is a difficult question to answer in just a few words! As a pioneer in online medical education Qbanks, UWorld is an excellent resource. Most of our U.S. editorial team used and appreciated it very much. We share a similar value of providing high-quality, challenging, exam-like practice questions with explanations that connect high-yield concepts and teach rather than tell. In this sense, we feel that our Qbanks have a lot of similarities.
But we are much more than just a Qbank! We also have a complete Knowledge Library for referencing as well as high-yield layering for exam prep. Intelligent hyperlinking in our platform means everything is connected and available in the same tab with a mouseover or click. It saves precious time, prevents knowledge gaps, and is consistent. It's more efficient and dynamic than any other learning platform we ever had during our studies; no more googling, no more books, no more knowledge gaps or losing time trying to find the answer.
Unlike Qbank-only resources that have tried to pack in all the USMLE® content they can into their explanations while missing key concepts, AMBOSS' explanations remain concise: users can read the off-topic details in the linked review cards if needed. There are also tools in place to help improve test-taking abilities, such as the attending's tip tool, which explains intermediate steps in Qbank solving, and a vital highlighter that helps you quickly identify high-yield information. Rather than just telling, every explanation teaches why a particular option is right or wrong.
The program adapts to users' needs and preferences throughout their lifetime use—no having to buy separate Qbank packages and lose past history. That means you can continue to optimize your study experience by relying on ongoing recommendations that are tailored to your needs. So instead of wasting time studying things you already know, you can get right to what you need.
We have an active, passionate team that supports awesome users by replying to daily feedback and social media conversations. With AMBOSS, we don't just take your money and leave you in the dark.