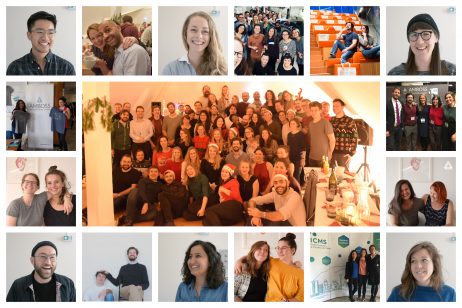 English & German Editorial
Our editorial team constantly produces and reviews new, top-notch medical content for the AMBOSS platform. The English editorial team builds USMLE-specific content based on the newest NBME guidelines and the German team builds content focused on the German state examination guidelines.
Marketing & Communications 
Our marketing & communications team makes sure that the world learns about AMBOSS! We have multiple teams that do focused outreach in Germany, the United States, and around the globe. They are entrusted with the noble task of sharing the AMBOSS love far and wide, and connecting with others who are also passionate about AMBOSS.
Product & Engineering
Our product & tech team is always working to make the AMBOSS platform the best resource it can be, whether that means programming new features or conducting research about how students can use the platform most effectively. Feedback about platform usage comes to this team and is consistently incorporated into changes and improvements.
Business Development
Our business development department, which includes the business, finance and HR units, plays a variety of essential roles. The business unit ensures that AMBOSS finds the right partners and executes the right strategies to continue growing into a world-class medical education company. And the finance unit, or our finance wizards, use their supernatural abilities to ensure the financial viability of AMBOSS – they see into the financial future, projecting costs and sales, while they also keep track of all transactions. Our HR team prides itself on making a positive company culture its #1 priority at AMBOSS. HR supports the onboarding processes of all new hires and brings talented, passionate individuals to AMBOSS; they also provide support to all the team members at AMBOSS on a daily basis!