There are two airports in Berlin: Tegel (TXL) and Schönefeld (SXF). Tegel is often the destination for long-haul international flights while Schönefeld typically serves inter-European travelers. You can easily use public transport to reach our offices from either airport. Taxis are another easy, though more expensive, option. Both airports have free WiFi, which you can use upon your arrival to get in touch with us should you have questions, to buy transport tickets via the BVG app, or just to tell friends and family you've arrived safely! See specific instructions from various starting points in the linked guide pages below.
Our Address: Torstraße 19, 10119 Berlin
Using the BVG
The public transportation system in Berlin is very extensive and relatively easy to use – so don't be intimidated! You can pretty much reach any destination with the network of trains, trams and buses. The online network map can be found here. Trains typically operate from 4 am – 1 am on weekdays and around the clock on weekends. Night buses replace train service outside of operating hours on weekdays.
The BVG system runs on an honor code; passengers flash their tickets for bus drivers, but almost never have to show their tickets otherwise. Occasionally "controllers," who wear plain clothes and carry ticket scanning devices, will come through the train and ask to see your ticket ("Fahrkarten, bitte!"). Show your physical ticket or the QR code in the ticket section of the BVG App. Don't forget your ticket, or it's a €60 fine! Also be aware of the conditions of your ticket – how long it is valid and in which directions (example: single-ride tickets are valid for 2 hours, but cannot be used for round trips). Ticket conditions can be reviewed online or at any kiosk.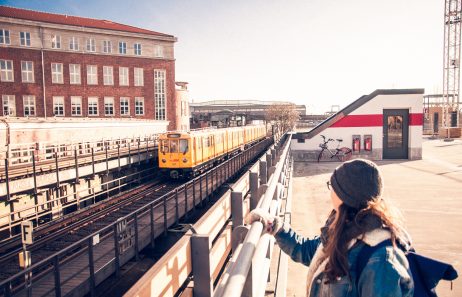 Ticketing
You can find an overview of BVG ticket types and prices here. For shorter stays, you will likely use a combination of single ride, daily or weekly tickets, depending on how often you use public transport. For longer stays, you might consider buying a monthly ticket, especially if you use public transport daily. A BVG ticket can be used for all S-Bahn, U-Bahn, tram and bus transfer.
Most of your destinations will be within zones AB, which you can see on the network map linked above, so we recommend only buying tickets for these zones. If you need to reach a destination in zone C, you can buy an inexpensive extension ticket to pair with your AB ticket.
Tickets can be bought at yellow or red kiosks, onboard buses and trams, or with credit card via the BVG app. There are English language settings on all ticketing kiosks. With the exception of airport and central train station machines, ticket kiosks often do not accept credit cards. However, you can always pay with cash (coins and notes up to 20 Euros) or European-style debit cards (girocard). You may buy single ride or daily tickets from bus drivers with cash or from ticket machines onboard trams (tram machines only accept € coins). After purchase, make sure to validate your ticket on the designated space provided by using the validation (stamp) machines.
Alternative Modes of Transportation
If public transport isn't for you, other options to get around Berlin include taxi (we recommend mytaxi instead of Uber, as Uber just calls regular taxis and charges an extra fee), carsharing (DriveNow, car2go) or bicycle. There are also numerous bicycle-sharing options in Berlin.