AMBOSS
for Clinical Courses

---
Keep your students engaged
Explore the AMBOSS Course offerings available in the platform that your students can use use to stay on track with learning objectives.
Use AMBOSS to build clinical knowledge and support exam readiness.
Medicine Clerkship course
Infectious Diseases Service course
Pulmonology Service course
Dermatology Service course
Neurology Clerkship course
Pediatrics Clerkship course
… and many more now available!
AMBOSS Courses are free for our subscribers.
Courses provide multi-media learning content combined with exam-style self assessment for core subjects of the clinical sciences curriculum.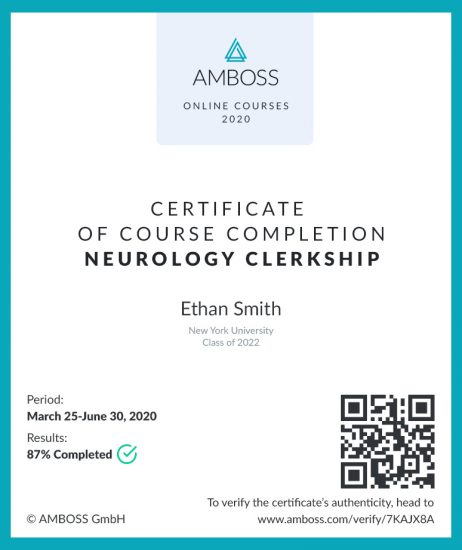 Verified Certificates Prove Students Completed the Courses
We're here to support your students and help them continue their semester successfully, despite the current circumstances. Our goal is to provide free certificates to those who complete AMBOSS' online courses to count towards their coursework.