Score higher on your
USMLE® and NBME®
exams
AMBOSS covers you for your USMLE Step 1 and Step 2 exams, and includes supplementary content for Step 3.
2500+ Practice Questions for Step 1
2200+ Practice Questions for Step 2
800+ Supplementary Questions for Step 3
40+ Cases for Step 2 CS
It's a robust, dedicated shelf resource that helps you honor your clerkships.
2200+ Practice Questions
1500+ Images to Train your Clinical Eye
900+ Learning Cards
18 Subject Examinations (Basic & Clinical Science)
The AMBOSS Knowledge Library topics and Qbank questions are developed, checked and cross-checked by a group of physicians who maintain that all exam prep materials are clear and comprehensive. Extensive research and testing ensures learning materials are perfectly aligned to meet NBME standards.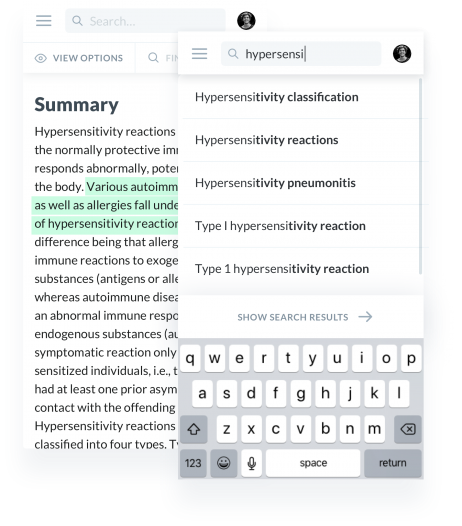 The AMBOSS Medical Knowledge Library has over 900+ Learning Cards, allowing you to study in-depth on every topic featured on the USMLE Step exams. Learning Cards link to questions and vice-versa, making it easy to close your knowledge gaps.

4700+
Exam-style Questions
The structure of our questions, answer options and detailed explanations offer you more than just a practice session. Create custom question sessions using advanced filters, or choose a standardized session curated by physicians.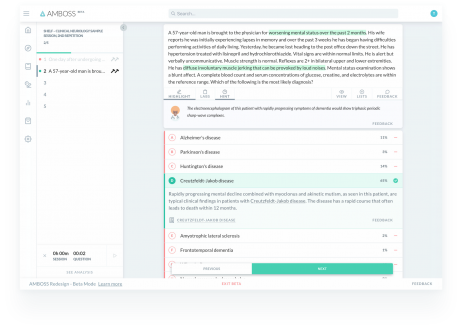 High-Yield mode
Access content that yields the highest amount of gain and get just the right amount of information necessary to answer Step and Shelf questions.
Analysis
Focus your study efforts with an in-depth analysis of your last Qbank session or your overall Qbank history.
Highlight
Memorize important facts by turning on built-in highlights, to scan and focus on relevant information.
Image overlays
Retain more information using thousands of charts, X-rays and images with digital overlays that illustrate key diagnostic points, structures and systems.
Attending Tip
Get clues on how to approach questions and develop skills on how to creatively define solutions as well as find correct answers.
Quick Explanations
Not exactly sure what that term means? Hover over it with your mouse and see its pop-up explanation. Simply click on the pop-up to dive in deeper.