The gateway to instant medical knowledge for your users.
Provide your users with access to the best medical knowledge available
"After we integrated the AMBOSS API to our flashcard app, our NPS rose by 14 points 🚀

Our users love it and thanks to the amazing referral program 💰, it is also good for our bottom line 💎👐🏽"

(Tobias O.)
Integrate the AMBOSS API into your website, API or software. It's as simple as Google Analytics.
Provide your users with relevant and professionally edited medical knowledge that is always incorporating the latest advances in all medical fields within your product.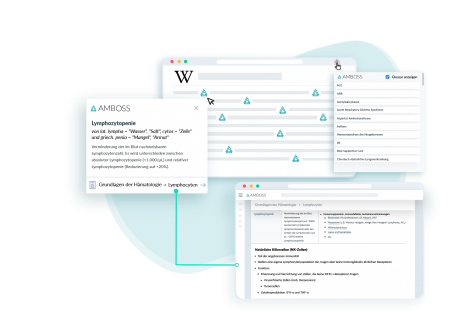 Instant medical knowledge
The intuitive design automatically identifies medical terms, and offers medical knowledge with a simple mouse over.
Simple integration
After registering as an AMBOSS partner, you can generate your personalised code snippet and immediately launch it into your service.
Generate more revenue
Earn up to 20€ per successful AMBOSS subscription via your service. The AMBOSS partner portal provides you with a full overview of your referrals and payment status.