Download & Use the AMBOSS Add-on for Anki

Whether you're studying for the USMLE® Step 1, Step 2 CK, or NBME® exams, you can rely on the AMBOSS add-on to help make connections between high-yield medical knowledge across resources.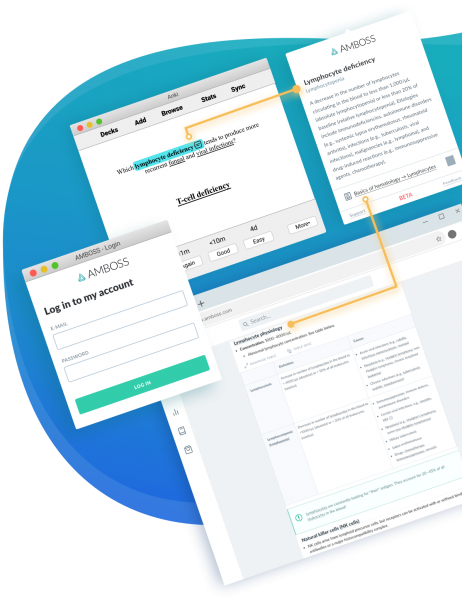 How to Install and Use the Add-on on Your Desktop Computer
(The add-on does not work on mobile devices yet)
If you don't already have one, create your AMBOSS account here.
IMPORTANT: Make sure you're using Anki 2.1.15 or newer. If you currently don't have it installed or would like to update it, you can find the latest version of Anki here: https://apps.ankiweb.net/
Once you've checked that you've installed a compatible version of Anki, instantly download the add-on here
Open the folder where your browser's downloads are usually stored. In it, you should find a new file named "amboss.ankiaddon."
Open up the Anki app and click on "Tools" and then on "Add-ons." A new window will open where you can simply drag and drop in the amboss.ankiaddon file. A confirmation message should then appear telling you that the installation was successful.
As a very last step, restart Anki by quitting the application and opening it again. The AMBOSS login window will appear where you can plug in your AMBOSS credentials.
Now start using the add-on! Hover over terms in flash cards to instantly see their pop-up definitions provided by AMBOSS. To delve into topics further, click on the pop-up to open the corresponding Article in the AMBOSS Library.
Download the Latest Version of the Add-on
Troubleshooting & Frequently Asked Questions
The add-on is compatible with Anki 2.1 and higher. Make sure you have the latest version of Anki!
It's free to try, but you do need an AMBOSS account. Create one now — it takes just a few minutes.
AMBOSS works with any Anki deck. Try it out with a deck that focuses on your next exam!
It's currently only available for desktop. The AMBOSS add-on isn't compatible with mobile devices yet.
Make sure you're using the OFFICIAL add-on which can only be downloaded from AMBOSS. If you download it from anywhere else, please contact customer support.
Pop-up descriptions and definitions of terms help you pick up new topics quickly without slowing down your study sessions, and you'll be able to use Anki's powerful spaced repetition feature.

The future of medical education has arrived. This add on has allowed me to be much more efficient with studying; with its short summaries of high yield terms within Anki. It's like Anki now has its own medical search engine built-in.
Adil S., Class of 2022, Campbell University School of Medicine
Following a link to an Article leads you to the AMBOSS medical library. From there, you have the option to dive into the Qbank and further test your knowledge.

An incredible way to combine my two favorite study tools and evidence that AMBOSS is the most innovative medical school resource out there.
Nick F., Class of 2022, University of Utah School of Medicine
We're Always Here to Help
In case you run into any problems downloading
or using the add-on, please contact us right away
at hello@amboss.com