Sign up for the live webinar!
Date: February 11, 2021, 4pm (South Africa time)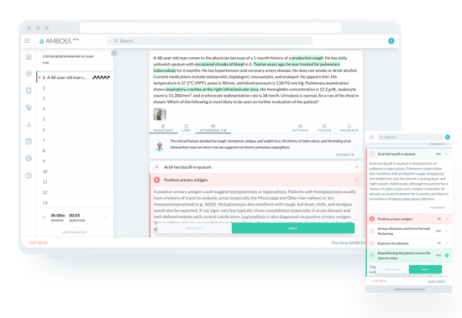 How to make the best use of an AMBOSS account–to ensure better knowledge-retention
The critical basics of how to effectively integrate AMBOSS questions and its Library into your exam-prep plans, to study smarter, not harder
Study strategies, resource choices, and tips for better scores from our panel of physician editors
Techniques on how to break down clinical-case-questions and consistently work out the correct answers using AMBOSS
Presenters

: 
Chance to learn directly

from a panel of AMBOSS physician editors

, 

who is part of a global team that helps thousands of students study smarter!
Chance to explore AMBOSS—a world leadingmedical resource, which covers multiple components for a successful exam prep into one proven platform.

All attendees will get one-time exclusive opportunity  to purchase

 AMBOSS access at a special price

, through the special

"Workshop attendees" 

initiative.
This workshop will benefit any medical student who is studying in South Africa and trying to understand how AMBOSS could help them in their aim to score higher.
To participate, you will need to:
Sign up for the workshop through the form above
After signing up, you will receive the details of the workshop (webinar link, time and date) at the same email address, with which you have registered
 On the allotted time and date, please click on the link in the email and join
Details about any additional offers or discounts will be explained live during the workshop
If you have any questions about using AMBOSS at your university or with your colleagues, feel free to send us a message at hello@amboss.com