Get ready for the SMLE with our in-platform study guide and exam-specific workshop!
Sign up for SMLE workshop!
Date: June 29th, 5pm (Riyadh time)
Can't see the registration button? Click here.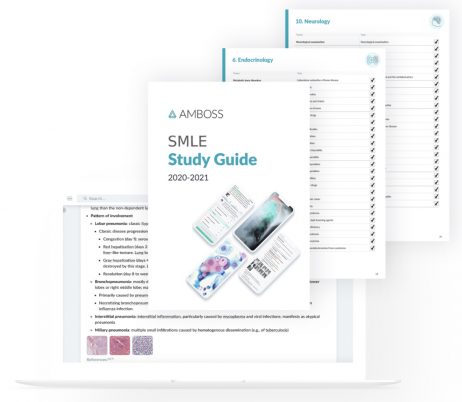 At 5pm (Riyadh time) on June 29th, 2021 AMBOSS will host a live, interactive webinar for all SMLE-undertakers in Saudi Arabia!
Content of the workshop
Study strategies, resource choices, and tips that have been proven by research that strongly correlates with higher SMLE scores.
The critical basics of how to effectively integrate AMBOSS questions and our in-platform study guide into your SMLE-prep plans.
A live quiz, during the workshop, which can win you up to 3-months of full AMBOSS access!
Sign up today and get ready to ace the SMLE with AMBOSS! We look forward to seeing you there.
Presenters:
Dr. Karim Salah El Deen – Physician and Senior Partnership Manager (MENA)
Dr. Mostafa Abdel Nasser – Physician and Partnership Manager (MENA)
Badr Beyari – King Abdulaziz University College of Medicine
Chance to learn directly from an AMBOSS Physician, who is part of a global team that put together a comprehensive in-platform study guide for SMLE undertakers like you!
Opportunity to explore AMBOSS—a world leading medical resource, which covers multiple needs for a successful exam-prep into one proven platform.
If you are preparing for, or even thinking about the SMLE (or any other competitive exam with clinical-application-based MCQs) then, quite simply, YES!
This workshop will benefit any student planning to prepare for the SMLE and trying to understand how AMBOSS could help them in their aim to score higher.
To participate, you will need to:
Sign up for the workshop by clicking on the "Register now" button
After signing up, you will receive the details of the workshop (webinar link, time and date) at the same email address, with which you have registered
On the allotted time and date, please click on the link in the email and join!
Get the free in-platform study plan!
Created and written by a team of dedicated physicians, AMBOSS is an interactive library of over 20,000 medical topics interlinked with a Question Bank with nearly 5,000 clinical case-based questions. With all the necessary resources in one place, AMBOSS delivers up-to-date medical knowledge to students, physicians, and faculty around the world..
What makes AMBOSS unique?
1,200+ peer-reviewed articles that cover over 20,000 preclinical and clinical topics
Individual performance analytics that help you make the most of your time
5,000+ clinical case-based questions that will help you prepare for any exam
Subject and exam-specific study plans that encourage you to stay on track
An integrated app that allows you to take AMBOSS anywhere, with or without WiFi