AMBOSS Webinar – La Sapienza
[English version]
[Italiano] 2 dicembre alle 17:00 (CET)
Registrati qui per il webinar in italiano del 2 dicembre alle 17:00 (CET)
Non riesci a visualizzare il tasto per registrarti? Clicca qui.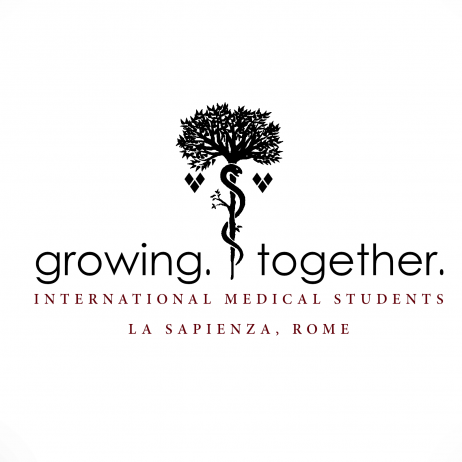 — Italian version below —
AMBOSS, the advanced medical learning platform, will host in association with IMSSA Sapienza not one, but two live, interactive webinars for all medical students from La Sapienza of the faculties of Medicine and Dentistry, Medicine and Psychology, Pharmacy and Medicine ​​​​​​and from the International Medical School of Medicine and Surgery.
The first session will be held in english and will take place on November 26th at 5pm (CET), while the second session, in italian, will take place on December 2nd, at 5pm (CET).
We'll show you how to study and review smarter and how to optimize your daily studies.
Sign up now to secure your place and you'll receive the link to the webinar. Attendees will also get free AMBOSS access and the chance to win awesome prizes during the webinar.
Feel free to share this page with your peers and come prepared with any questions you wish to ask.
We look forward to seeing you there!
AMBOSS, l'avanzata piattaforma e-learning di medicina, presenterà in associazione con IMSSA Sapienza non uno, ma due webinar interattivi per gli studenti di medicina della Sapienza delle facoltà di Medicina e Odontoiatria, Medicina e Psicologia, Farmacia e Medicina e dell'International Medical School of Medicine and Surgery.
La prima sessione si terrà in inglese e avrà luogo il 26 novembre alle 17:00 (CET); la seconda, in italiano, si terrà il 2 dicembre sempre alle 17:00 (CET).
Ti mostreremo come studiare e ripassare in maniera più efficace e come ottimizzare e strutturare al meglio il tuo studio quotidiano.
Registrati per ottenere il tuo posto durante il webinar e per ottenere il link. I partecipanti riceveranno un periodo di accesso gratuito ad AMBOSS PLUS e la possibilità di essere estratti a sorte e vincere due fantastici premi durante il webinar!
Non esitare a condividere questa pagina con i tuoi compagni di corso e prepara pure tutte le domande che vuoi; saremo lieti di rispondere alla fine della presentazione.
Non vediamo l'ora di vederti lì!
Study smarter with these features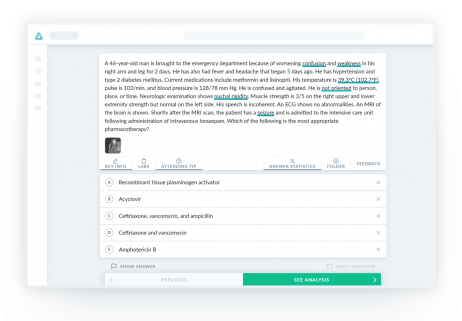 Reveal what's important
Memorize the most important facts
by turning on built-in highlights, to scan
and focus on relevant information.
Explore visually
Retain more information using thousands
of charts, x-rays and images with digital overlays
that illustrate key diagnostic points, structures
and systems.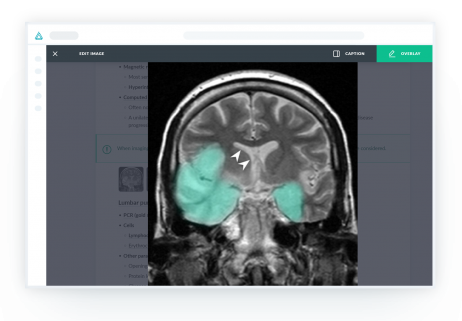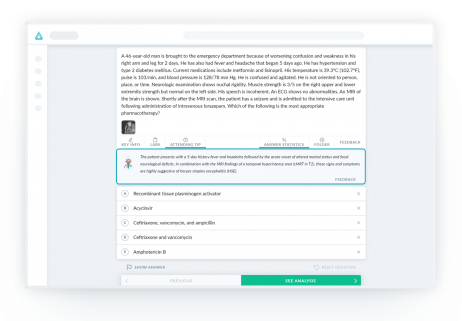 Learn constructively
Stuck? Get clues for approaching the questions,
and develop skills not just in finding correct answers
but in creatively defining your solutions.
Examine closely
Organize a personal study plan that
synchronizes questions and articles,
allowing you to test your knowledge and
expand it, all in one place.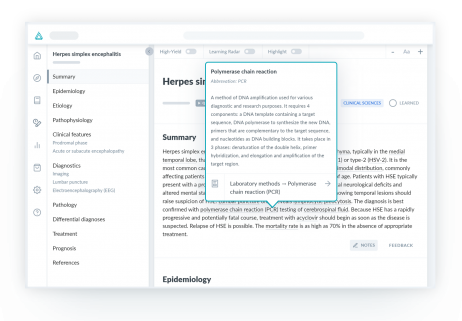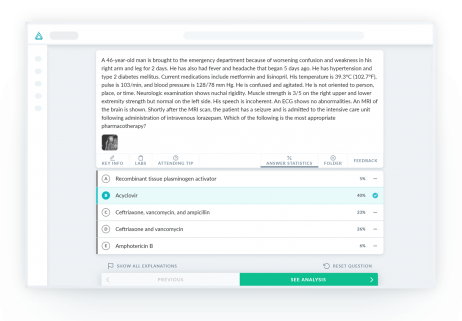 Measure up
Sort custom Qbank sessions by difficulty
level, and reveal statistics about how others
answered so you can compare scores.
If you have any questions about using AMBOSS at your university or with your colleagues, feel free to send us a message at hello@amboss.com