Sign up for the live webinar!
Date: January 26, 5:30pm (Cairo time)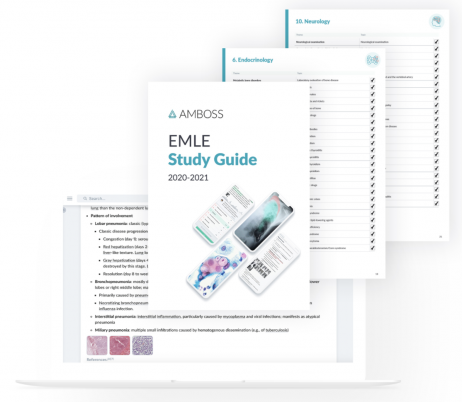 The critical basics of how to effectively integrate AMBOSS questions and its Library into your EMLE-prep plans, to study smarter, not harder
Study strategies, resource choices, and tips for better scores from a recent local graduate
Walkthrough of the free EMLE study which you can download here.
Presenters: Dr. Karim Salah El Deen (Senior Partnerships Manager and Physician Editor –MENA region)
Dr. Moaz Adel Kamel (Graduate of Faculty of  Medicine and Surgery, Al-Azhar University)
– USMLE Step 1 – August 2019
– USMLE Step 2  – October 2020
– Online medical educator since 2015 (M&M of pathology and other courses)
Chance to learn directly

from an AMBOSS Physician

, 

who is part of a global team that has put together a study guide for the Egyptian Medical Licensing Exam
Opportunity to explore AMBOSS—a leading medical resource, which covers multiple components for a successful exam prep into one proven platform.
Attendees also get the chance to get AMBOSS access at a special price, through the exclusive "Webinar attendees" initiative.
This live webinar will benefit any student planning to prepare for the EMLE and trying to understand how AMBOSS could help them in their aim to score higher.
To participate, you will need to:
Sign up for the webinar via the form above
After signing up, you will receive the details of the session (webinar link, time and date) at the same email address, with which you have registered
 On the allotted time and date, please click on the link in the email and join
Details about any additional offers or discounts will be explained live during the webinar
If you have any questions about using AMBOSS at your university or with your colleagues, feel free to send us a message at hello@amboss.com