Vrije Universiteit: AMBOSS Workshop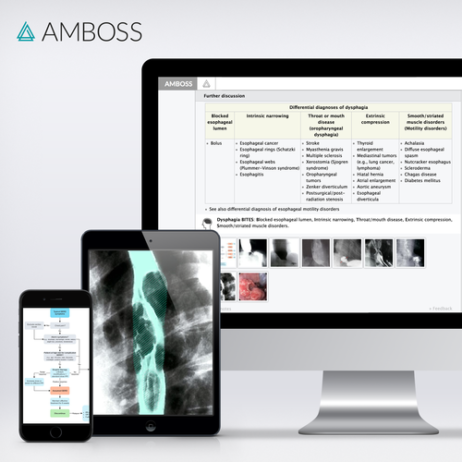 AMBOSS is happy to offer all attendees 1 month free to AMBOSS PLUS, where everyone can enjoy our integrated Question bank and Knowledge Library. Please follow the below instructions to begin your access:
1. Register a FREE account on your computer.
2. Check your email and click the confirmation link.
3. Enter the below activation code here.
AMBOSS offers so much more than what the traditional resources offer. Both the Question bank and Knowledge Library feature a phrasionary, table quizzes, charts, radiological images with overlays, videos, SmartZoom samples and other images that illustrate key points on different topics. And it's all on a digital platform that you can refer to anytime, anywhere, whether you're at home or on-the-go and offline with our mobile apps.
Study Information Side-by-Side
As you go through sessions in the Qbank, you'll have moments when you'll want to dig deeper at the topic at hand. Instead of wasting time between seemingly-related-but-not-really external resources, you can keep your studying centralized with AMBOSS. Every Qbank answer is linked to a corresponding Learning Card that you can open up right beside the question.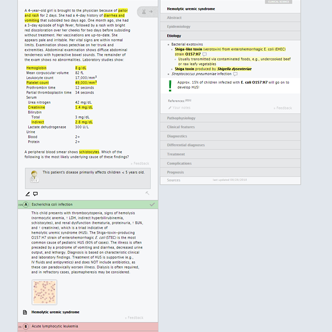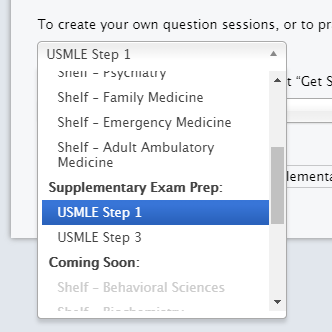 Go through challenging, USMLE-style questions with pre-made question blocks or sessions you've customized yourself. With randomized sessions, you'll give your memory a workout and train your brain to more easily recall information later on. Every answer option, whether it's right or wrong, offers a contextual explanation of why it does or doesn't apply.
Feeling comfortable with the exam format is just as important as knowing the content that will appear on it. Enabling exam simulation mode will replicate exam-day conditions, featuring a timer and NBME-style interface.
Browse the Basic Science Section of the Knowledge Library
The Knowledge Library spans everything you need to know for Step 1. There, you'll find Learning Cards covering traditionally defined disciplines like anatomy, behavioral sciences, biochemistry, biostatistics and epidemiology, microbiology, pathology, pharmacology, and physiology, as well as interdisciplinary areas like genetics, aging, immunology, nutrition and molecular and cell biology. Topics can be approached from two vantage points: by discipline or by system.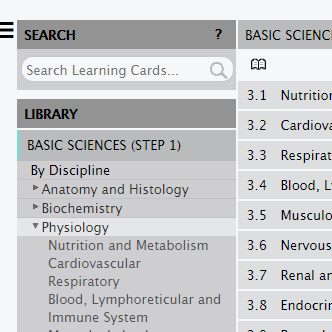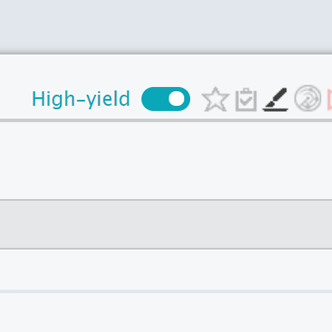 Enable Highlighting and High-Yield Mode
Always see exam-relevant information first. Enabling the highlighting tool highlights the most essential information you need to know in any Learning Card—the very information that will come up in Qbank questions. If, instead, you're looking to get through Learning Cards as quickly as possible, you can turn on High-Yield mode to condense them to their key points.
Get an idea of how well you're retaining knowledge with personal assessment tools. The Learning Radar will set information you're getting wrong in the Qbank in red in the Learning Cards.
If you're looking for a more complete overview of your progress, check out your Personal Analysis. There you'll see which topic, subject or organ system you've mastered already and which you need to dedicate more time to. Personalized Study Recommendations also provide a breakdown showing how much time to spend on weak areas and with which Learning Cards.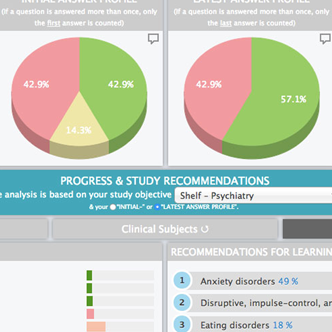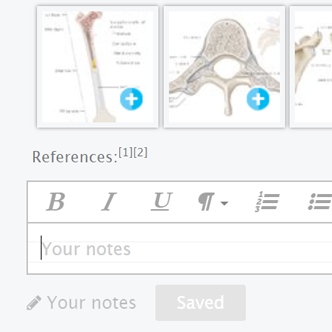 Take and Share Personal Notes
Add course notes, personal interpretations and clarifications on topics to each section of the Learning Card you're reviewing. It's yet another way of integrating your study materials in one place and further keeping your studying completely centralized.