The Basics: Landing US Residency positions
Every year, thousands of international students make the decision to pursue residency training in the USA—thus, joining the global tribe of  'International Medical Graduates' or 'IMGs'.
After some initial self-driven research, (which usually involves questions like "Which QBanks should I use? How long do I need to prepare for Step 1? Is ANKI really necessary?") most IMGs tend to jump right into their journey with one singular focus—scoring high on the USMLE® (United States Medical Licensing Exam).
Unfortunately, at the end of every year's residency matching process, a high number of IMGs end up not matching, despite some amazing Step scores.
This article is meant to provide IMGs with critical information that they need to know—to avoid the same pitfalls and to, instead, make the right decisions along their path—so as to ensure their best chance at matching.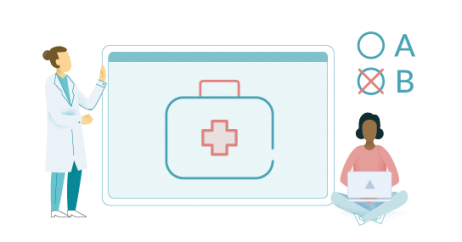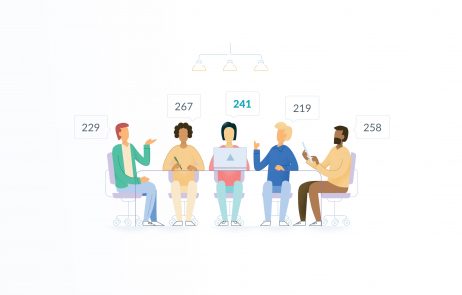 Why IMGs really need to read this article?
Does everyone with really great scores match? No!
Even the data on the average scores of successfully-matched IMG applicants shows that incredibly high scores are no guarantee for landing a residency position.
Every year, among IMGs with similar scores, some don't make the cut at the NRMP Match®, while the others do. Clearly, there is a LOT more than just Step scores, which determines the progress of an IMG throug the USMLE journey.
This multifactorial nature of Match®-success often gets lost in the deluge of prep-advice that IMGs tend to internalize; thus, harming their final outcomes.
This article will help you understand better, which factors determine progress through different stages of the Match® process.
Hopefully, with this understanding, you'll be able to lay your USMLE® plans in a way that gives you the best chance at matching successfully.
What really determines an IMG's success at matching into US Residency
The selection process for US residency positions consists of multiple milestones—starting from achieving ECFMG certification and culminating in receiving the coveted "You have matched!" email. The outcome determinants in the US residency process are truly multifactorial—unlike a lot of residency selection systems globally, where performance on an "entrance exam" solely determines which applicants get selected.
Knowing and understanding the elements that determine progress at key checkpoints of this crucial journey will help IMGs plan for this process more effectively.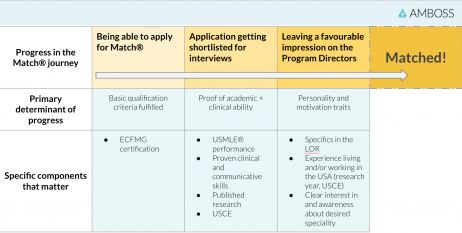 A decent score can help an application catch a Program Director's eye but, for a chance to be called for interviews and then to be selected, you'll need more than the score.
Make sure that you understand the main success-determinants for every step of the selection process. This knowledge can be like having GPS in a foreign country—it will help you make better informed moves.
Based on which stages, you need to clear to get matched, the four primary pillars of Match success can be described, as follows:
Proof of academic proficiency
Proven core clinical ability
Proof that you know exactly what you are trying to get into
Favourable personal traits and drive
Each of these pillars takes on different levels of importance in determining progress through the various stages of the process.
Determinants of progress through each stage of the Residency selection process
Stage 1 – Being able to apply for Match®
At the risk of stating the obvious, the first thing an aspirant needs to ensure is that they satisfy all the prerequisites for officially entering the NRMP Match®, and that they do so well within the deadline. A fair few applicants find themselves missing non-negotiable deadlines, by when they need to have taken and cleared their last Step exam (usually, Step 2 CK), because of poorly scheduled exam dates or other logistical oversights.
Key takeaways:
This may sound obvious but make sure you are completely familiar with the requirements and the exact timeline to be eligible for the Match® process, right from the beginning of your USMLE journey. (If you're already intensely preparing but are not yet completely familiar with it—do it RIGHT NOW!). This video by the NRMP® itself provides some easy and quick orientation.
Right at the start of your preparations, chart out your timeline in a way that ensures you pass both your USMLE® Step exams within the requisite timeframe. We suggest scheduling the last Step exam at least 30-45 days before the deadline, so as to account for any unforeseen procedural hiccups. Many programs select students for interviews using the "first come, first served" policy, so the sooner you submit your application (as soon as application submissions open), the better.
Stage 2 – Getting shortlisted and called for interviews
Success, at this stage, is determined by two factors: your academic profile (basically, your USMLE scores) and proof that you possess basic clinical ability. Once you have submitted your profile to ERAS, there is not much you can do to influence your interview calls. So, the time before the ERAS application submission deadline should be used to build the kind of profile that is sure to work for you in front of the selection committee.
Key takeaways:
Your academic profile:


–USMLE performance: This is the point where your USMLE scores play the biggest role. With thousands of applications to sort through, and no way of knowing anything about the applicants, scores become the only objective and quantifiable metric for Program Directors (PDs) to quickly differentiate between candidates. So, make sure you do whatever it takes to ensure that your scores help you stand out from the crowd.
– Other academic indicators: This is where most IMGs falter. You need to ensure that, by the time you press submit on that application profile, your interest in your chosen speciality can be determined by just glancing at it. Clinical experience, volunteer work, research—all are ways to make yourself stand out favourably in the eyes of program directors. Even if challenging, plan for these well in advance and strategically!
– Academic performance in the home country does not significantly (if, at all!) affect the outcome of this stage of the process.
Proof of basic clinical ability:


– No more Step 2 CS: With the Step 2 CS being abolished, Program Directors no longer have any objective assurance that an IMG applicant meets the basic levels of clinical and communicative ability expected of a prospective resident. Thus, we strongly suggest that an IMG clears the bare minimum alternative requirements put in place to ensure clinical ability. Additionally, we also think it will help (but, is not 'make or break') if you can add elements that showcase additional clinical experience and competence, in the field of your choice—like, relevant clinical experience (in the home country and/or the US), solid letters of recommendations from supervising physicians in the same field, etc.
Stage 3 – Making the right impression at the interviews
Getting called to interviews is a great deal. However, the impression you make through your application (your CV, scores, grades, etc.) will not be enough to help you coast through this stage.  The programs want to get a sense of 'you', as a potential resident and a team member, which can't be obtained from words on paper.
Key takeaways:
Highlight your personality and motivations: The directors want to see that you are passionate about medicine and your specialty choice and that you're constantly learning and growing as a person and future physician. Showing dedication and a long term time commitment to activities that are important to you (academic, but also extracurricular) will help assure the panel that you can be a valuable addition to their team.
Showcase your cultural awareness and fit: 

It is crucial that it comes across clearly that you are familiar with US norms that dictate the expected behavior and abilities of future physicians. Make sure that you speak about your clinical experience letters from the US and about the time you have spent immersing yourself in the country in a manner that highlights exactly how you have made conscious efforts to be better prepared to become a part of a new healthcare and social system!

Basic interviewing non-negotiables: D

isplay courtesy, kindness, interest, respect, humane qualities, asking insightful questions, etc. to everyone during your time at the hospital. Especially, the existing residents and nursing staff. Often, post-interview opinions of these crucial team-members are the most important factor to influence your chances with any program.
 Craft an eye-catching personal statement: Ensure that you genuinely reflect on your honest personal motivations and write concisely in your personal statement

. You'll have to write a separate residency personal statement for each specialty you apply to (but not for each program) so it's important not to use a generic one. A 

strong connection between your candidacy and the program, based on some deep research you did about the hospital, could signify a real winning move on your end!
Remember, your personal statement is not a recitation of your CV, instead, it's an opportunity to discuss who you are as a person, how your experiences have led you to apply, and why you are a suitable candidate for the position. You'll need a strong, unique introduction, evidence filled body paragraphs, and a conclusion that ties everything together and leaves program directors wanting to learn more about you.
Make a strategic approach: Look for which programs and states are the most IMG friendly, and aim for those. Data from the National Resident Matching Program (NRMP) shows specific information about how many IMGs, both US citizens and IMGs from other countries, were placed in each state for the most recent iteration of the Match. Additionally, build and maintain relationships with classmates, researchers, faculty members, and other doctors in the US, whenever you can. You never know who among your contacts might know a residency director evaluating you for their program.
Our advice to IMG aspirants, in a nutshell
Preparation for the USMLE Step exams is an essential gatekeeper for one's ability to practice clinical medicine in the United States. However, the art of practising medicine is far greater than any one exam, and the US Residency Match® process genuinely treats it as such. Anecdotal responses (to questions like "how much time do I need to score a 260+ on Step 1?") on Reddit/Facebook should not become the sole basis, on which an IMG charts their US residency plans.
We urge IMGs to begin early and to plan their preparations along a timeline that will allow them enough time and opportunity to properly consolidate each distinct element that determines Match success.
What residencies are looking for is a capable clinician with a solid academic grounding, who brings a decent work ethic and competence to the table. But more importantly, they're trying to choose a "potential colleague"; and so, they're looking for assurance that you are a well-rounded and teamwork-capable person, who will fit well into the team and not massacre the morbidity rates of the Chief's department!!
Aim for above-average USMLE® scores—but aim even harder for a stronger, more well-rounded application.
All the best!
Best regards,
Your AMBOSS Team.
Thousands of IMGs have used AMBOSS to elevate their USMLE preparations and scores
Try out AMBOSS for free with our 5-day trial