Sign up for the quiz has ended. If you have signed up, you will receive the quiz at 7pm (GMT+8 Taiwan time).
On July 15th, 2021 at 7pm (GMT+8), AMBOSS will host a timed online quiz for medical students in Taiwan. The six highest-scoring participants and six randomly selected winners will be awarded great prizes, from headphones to free AMBOSS subscriptions. Sign up to take part and we'll email you a link to the quiz when it starts.
You'll have approximately 30 minutes to complete the quiz and the winners will be chosen within two weeks. To enter the quiz, you'll need to log into your AMBOSS account or create one if you haven't already.
You'll also need access to our medical Question Bank, but if you don't have a current subscription, don't worry. When you sign up for the quiz, you'll receive a free code that will provide you with full AMBOSS access until July 17th.
How does the quiz work?
---
At 7pm (GMT+8), you'll receive a link to the quiz. The quiz will be in an exam-style format with multiple-choice questions. A timer will start when you open the quiz and there will be approximately 20 questions for you to answer. Please answer all questions and submit your answers before the time runs out. Only the score from your first attempt will be counted and answers must be submitted no later than 9pm (GMT+8).
Can I participate on a mobile device?
---
Yes, you can take part on a mobile device, but the link to the quiz will not open within the AMBOSS app. To open the quiz on a mobile device, you'll need to login to your AMBOSS account through your device's internet browser then paste the quiz link into the URL search bar.
Which medical topics does the quiz cover?
---
It's a wide mix of carefully selected topics that are likely to come up in your studies and exams, but we don't want to reveal too much just yet!
How do I know if I won?
---
We'll contact all winners within two weeks of the quiz.
Can I enter more than once?
---
Only your first score will be counted and submissions after 9pm (GMT+8) will not be eligible to win prizes. However, after the quiz ends, we'll send you the questions again in our 'Study Mode' feature so you can check your answers and use our smart learning tools to help you understand the clinical reasoning behind each answer.
What are the prizes for the winners?
---
We're offering the following prizes to the winners of the quiz and to a few lucky participants.
Winners of the preclinical quiz are:
1st winner: 12 months Plus Access + Headphone
2nd winner: 6 months Plus Access + Headphone
3rd winner: 3 months Plus Access + Headphone
3 lucky participants: 3 Months Plus Access
Winners of the preclinical quiz are:
1st winner: 12 months Plus Access + Headphone
2nd winner: 6 months Plus Access+ Headphone
3rd winner: 3 months Plus Access + Headphone
3 lucky participants: 3 Months Plus Access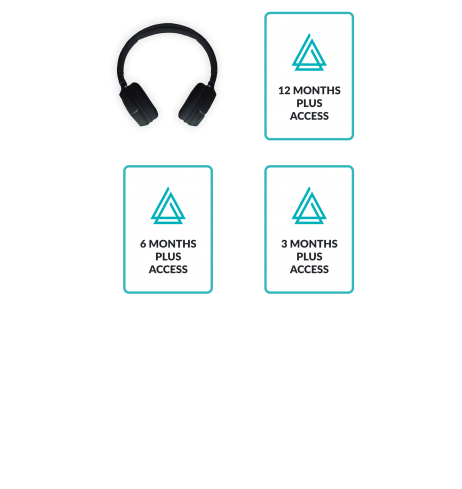 HOW AMBOSS HELPS YOU STUDY
If you have any questions about using AMBOSS at your university or with your colleagues, feel free to send us a message at hello@amboss.com