Make every day count with a comprehensive Biochemistry study plan created by AMBOSS physicians.
To use it, all you have to do is:
Go through the topics listed below day by day.
Follow them up with the corresponding question session.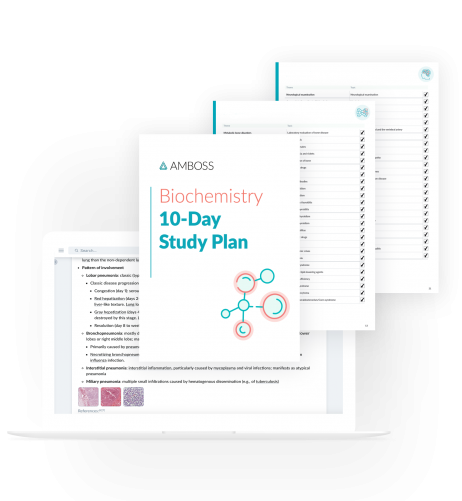 Start the AMBOSS Biochemistry 10-Day Study Plan
Want the PDF version of the 10-Day Biochemistry Study Plan?
Submit your information below to get it!
Get the Most Out of the Plan
The Biochemistry 10-Day Study Plan features an organized approach to mastering one of the hardest topics new students face in medical school. As a streamlined resource, it will help you get through all the nitty-gritty details you need to know on metabolism, cellular signaling, and other dense topics.
Each day features a list of topics and a Question Bank session to go through. Here's how we recommend you get the most out of the plan:
Carefully go through the topics listed in high-yield mode, and don't get intimidated by the number of topics you see; we've only chosen the most condensed, exam-relevant information you need to know to score high on the exam.
Follow that up with each day's curated Question Bank question session. Questions are randomized across the topics covered that day but ordered by difficulty, going from easiest to most challenging, allowing you to gradually build up your knowledge and strengthen your diagnostic skills.
Of course, feel free to skip days or change the order as you see fit to better suit your needs.
To use the Biochemistry study plan, you need an AMBOSS account. Create yours here and activate 5 days of FREE access to explore the platform. Already have an account? Try our unlimited access plans and freely go through the Question Bank and Library on your own time.
Happy to help
If you have any questions about using AMBOSS at your university or with your colleagues, feel free to send us a message at hello@amboss.com