Sign up for the Australian university quiz competition to win big!
Participate to make sure your university wins the AMBOSS university title! 
Quiz starts:  12 pm AEST August 12th
Quiz ends: 12 pm AEST, August 14th

To participate, make sure you have an AMBOSS account. If you don't have current AMBOSS access, don't worry! After signing up, we'll email you a code that grants you free access until August 17th!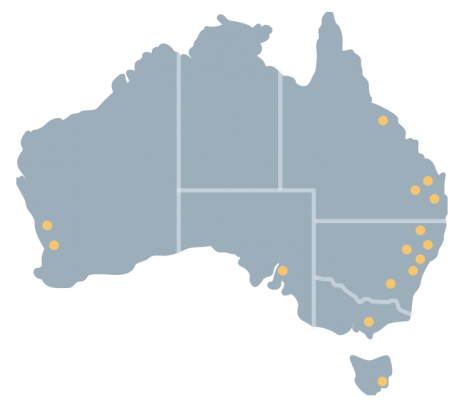 Kick off the second semester and reactivate your neurons with the AMBOSS medical quiz competition! From Thursday, August 12th at 12pm AEST, AMBOSS will host a timed quiz for all medical students in Australia to find the best performing university in the country.
The university with the highest average points per participant will win the title and 1000 AUD for their student society. If the winning student society wishes to use some or all of this prize as a donation to charity, AMBOSS will also contribute an additional 50% of the donation value. The highest scoring individuals, as well as a handful of randomly-selected participants, will be awarded great prizes from extended AMBOSS subscriptions to iPads, AirPods, Stethoscopes, and more.
Sign up to take part and we'll email you a link to the quiz when it starts at 12pm (AEST) on August 12th.
You will have 48 hours to access the quiz. Once the link is opened you'll have 40 minutes to complete the quiz and we'll announce the winners within two weeks.
To take part, you'll need to log into your AMBOSS account or create one if you haven't already. You'll also need access to our medical Question Bank, but if you don't have a current subscription, don't worry. When you sign up, you'll receive a free code that will provide you with full AMBOSS access until August 17th.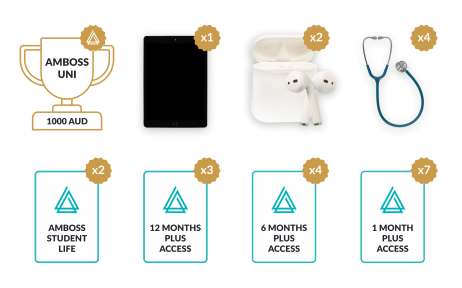 Details Regarding Prizes
---
University prize: 1000 AUD donation to MedSoc (AMBOSS will add 50% to any charity donation made with this money, summing up to a maximum of 500 AUD added by AMBOSS towards a donation if the entire prize money is used)
Student prizes: 
1x IPad 8th Generation 32 GB silver (499 AUD)
2x Apple AirPods Generation 2 (189 AUD each)
4 x Stethoscopes (80 AUD each)
2x AMBOSS Student Life: Unlimited AMBOSS access until graduation (valued (539.40 USD) 720.62 AUD each)
3x AMBOSS 12 months (valued at (388 USD) 518.35 AUD each)
4x AMBOSS 6 months (valued at (288.94 USD) 386 AUD each)
7x AMBOSS 1 months (valued at (88.99 USD) 118.76 AUD each)
Winner announcement date
---
Winners will be contacted on August 26th, 2021
Claiming your prize
---
Prizes need to be claimed within 2 weeks of the winner announcement. If the winner does not claim the prize within that time period, the prize will be redistributed to other participants
Do I have to create an AMBOSS account to participate in the quiz?
---
Yes, you must have an AMBOSS account in order to take part in the quiz. But signing up is completely free and you'll get to kick off a 5-day trial to explore the platform.
What if I already have an AMBOSS account?
---
Great! You'll still have to sign up for the quiz and you're good to go when it starts on August 12th!
I have an account but I already used up my 5-day free trial, can I still participate?
---
It is necessary to have an active account in order for you to take the quiz. If you have already used up your free access, don't worry! We'll send you a free access code that will grant you full access to AMBOSS until August 17th!
What kinds of questions should I expect during the quiz?
---
It's a wide mix of carefully selected topics that are likely to come up in your studies and exams, but we don't want to reveal too much just yet!
Is there a time limit to the quiz and how many questions do I need to answer?
---
Yes! Once you start the quiz, you will have 40 minutes to complete it. Only students who submitted their quiz answers between 12pm, August 12, and 12pm AEST on August 14th will be considered for the prizes.
What are the prizes of the competition?
---
As a winner of the competition, you can win one of the prizes pictured on the page. But apart from individual winners, the top-scoring university will also be awarded a 1000 AUD donation for their student society.
How do you choose the winner?
---
The winner of the competition is determined by the number of correct answers given during the quiz in the shortest period of time.
The university winner will be determined by the number of students who indicated in the form that they are from that university.
I'm not a student currently studying in Australia, can I still participate?
---
The questions in the quiz have been chosen for the students who are currently attending a university in Australia. If you still would like to take part in the quiz, you're free to do so, but unfortunately, the incentives and prizes will only be offered to Australian students.
Can I participate on a mobile device?
---
Yes, you can take part on a mobile device, but the link to the quiz will not open within the AMBOSS app. To open the quiz on a mobile device, you'll need to log in to your AMBOSS account through your device's internet browser then paste the quiz link into the URL search bar.
How do I know if I won?
---
We'll contact all winners within two weeks of the quiz. Due to privacy concerns, we will not announce the winners' names.
Can I enter more than once?
---
Only your first score will be counted and submissions after 12pm AEST, on August 14th will not be eligible to win prizes. However, after the quiz ends, we'll send you the questions again in our 'Study Mode' feature so you can check your answers and use our smart learning tools to help you understand the clinical reasoning behind each answer.
If you have any questions about using AMBOSS at your university or with your colleagues, feel free to send us a message at hello@amboss.com