---
Keep your students engaged
Explore the AMBOSS Course offerings available in the platform that your students can use use to stay on track with learning objectives.
Use AMBOSS to build clinical knowledge and support exam readiness.
Medicine course
O & G course
Surgery course
Dermatology course
Neurology course
Pediatrics course
… and many more now available!
AMBOSS Courses are free for our subscribers.
Courses provide multi-media learning content combined with exam-style self assessment for core subjects of the clinical sciences curriculum.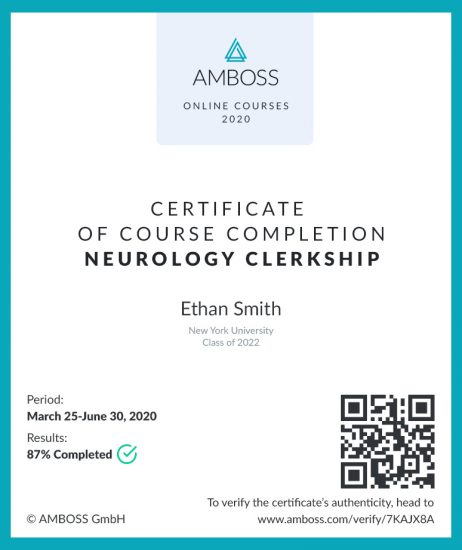 Verified Certificates Prove Students Completed the Courses
We're here to support your students and help them continue their semester successfully, despite the current circumstances. Our goal is to provide free certificates to those who complete AMBOSS' online courses to count towards their coursework.
Keep your students motivated and their knowledge sharp!
Classroom teaching will be limited or not possible at many universities worldwide in the coming months but the responsibility to train students is more important than ever. To support medical  schools during this crisis and its unprecedented disruption, AMBOSS is launching comprehensive Online Courses within the platform for no additional cost.
AMBOSS is the leading digital learning platform supporting comprehensive medical education in the US and Germany, where 50% of medical students are active users already and over 100 institutions, such as NYU School of Medicine, trust AMBOSS for supporting preclinical and clinical training.
Courses, newly available from AMBOSS, offer guided study for core subjects/classes of the basic science and clinical clerkship curriculum. Students can follow a day-by-day, stepwise approach with daily readings and summative topical questions, presented in the style of vignettes appropriate for the content and the students' exposure to the medical curriculum.
Students who fulfil Course requirements will receive a certificate of completion. Several of our institutional partners have already developed milestones using our Courses to support curricular objectives during this period of disruption.