The AMBOSS 100-Day Study Plan
Australia, finish medical school with the results you deserve!
Study Smarter, Score Higher
FREE DOWNLOAD
Subjects you'll find in the AMBOSS 100-Day Study Plan:

Medicine - Paediatrics - Genetics - Dermatology - Anaesthesiology - Surgery - Trauma - O & G - Urology - ENT - Neurology - Psychiatry - Pharmacology
User notice: To use the AMBOSS 100-day study plan, you'll first need to sign in to an account that has access to the Knowledge Library and Question Bank. If you're new to the platform, you can set up a free five-day trial to test it out. Once signed in, you can open the study plan at the bottom of this page, or view it in PDF format via the buttons above and below.
After many years studying medicine…
most medical students have to take one big final medical exam to prove they are ready to work as doctors. For written exams, you might have to study every day over several months. With AMBOSS, even this stressful phase becomes smarter and more fun.
We studied for medical state exams ourselves and have all the expertise to help you prepare in a way that we wish we could have. Based on our experience with the German, United States and international state exams, we created a learning plan that will help you revise the most important topics of Medicine to prepare for your final exams with ease. The AMBOSS Study Plan provides you with a clear structure and concise medical knowledge that will help you in both, written and oral exams.
Scroll below, and you will find professionally written Learning Cards covering subjects in your final medical exams, such as Internal Medicine, Neurology, Obstetrics and Gynaecology, Pediatrics, Anaesthesiology, Surgery and more! Each day in the study plan contains a series of Learning Cards linked to case-based questions to test you on your medical knowledge.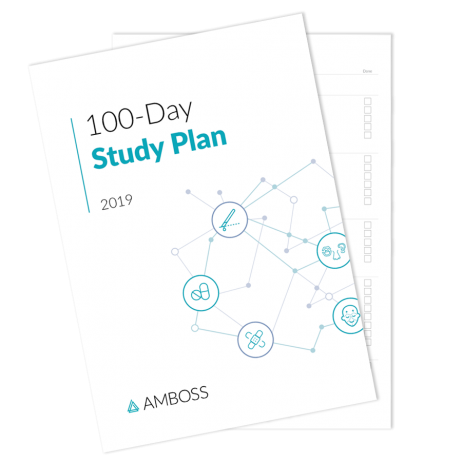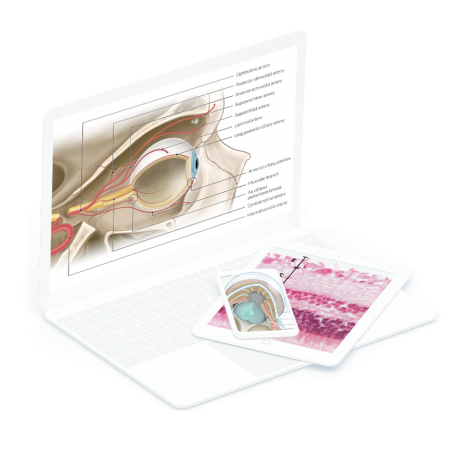 The AMBOSS 100-Day Study Plan
Revision guide for your final medical exams
For each day of the AMBOSS Study Plan, you will find a list of in-depth Learning Cards for your major medical subjects from our knowledge library. Each Learning Card is integrated with case-based multiple choice questions – tailored to the content you study.
Putting students in these clinical scenarios asks them to apply medical knowledge for the most important topics, and ensures that they possess the clinical medical knowledge to rock their final exams.
The most important conditions of Internal Medicine (36 study days)
The most important conditions of Surgery (11 study days)
Adjustable to your time schedule
Corresponding multiple choice questions for all major medical topics
Case-based questions to prepare for patient case study exams
Open time slots to tackle your weaknesses and regional focus topics
Day 1-36: Study Internal medicine
Day 37-46: Study Paediatrics
Day 48-51: Study Dermatology
You're halfway. Keep going!
Day 52-54: Study Anaesthesiology, emergency medicine
Day 52: Anesthesiology
---
Day 53: Anesthesiology, emergency medicine
---
Day 54: Anaesthesiology, emergency medicine
---
Day 60-65: Study Trauma and orthopedic surgery
Day 66-71: Study Gynecology and obstetrics (O & G)
Day 75-76: Study Ear, Nose and Throat (ENT)
Day 75: Ear, Nose and Throat
---
Day 76: Ear, Nose and Throat
---
Day 77-78: Study Ophthalmology
Day 79-86: Study Neurology
Day 87-91: Study Psychiatry
Day 92-96: Study Pharmacology
Day 97: Study Radiology, Occupational and environmental medicine, Social medicine
Day 97: Radiology, Occupational and environmental medicine, social medicine
---
Day 98-100: Study Legal medicine, Pathology, Epidemiology
Day 98: Legal medicine, Pathology
---
Day 99: Epidemiology
---
Day 100: Nothing!
---
You've done it! Congratulations! Today you deserve  a day of only the things you love and that help you keep calm. You are well prepared and we are sure you will be surprised by your own achievements in your final exam! Best of luck!
Congratulations! You've made it. Keep Calm and Study On!
Best wishes from everyone at AMBOSS!