Practice your test-taking skills with 200 case-based psychiatric multiple-choice questions, and find corresponding Learning Cards with further explanations on what you're being questioned on.
Access over 30+ Learning Cards packed with psychiatry topics, like this one on Personality disorders. Use these for exam preparation and throughout your entire psychiatric studies.
Save time by focusing on high-yield topics, including Alzheimer's disease, Antipsychotic, Delirium, Eating Disorders, and Major depressive disorder.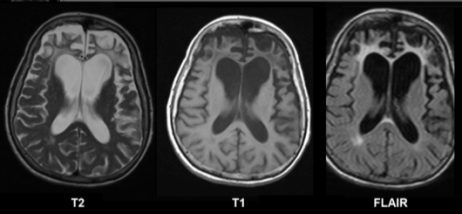 Brain MRI (T2-weighted, T1-weighted and FLAIR images, without contrast) showing marked atrophy of gray and white matter in bilateral frontal lobes.
AMBOSS is the perfect companion to guide you through medical school. It has challenged me to refine my learning. This way, I have way more balance and can keep up my interests outside medical school!
Victoria Anne Louise Garwood
University of Melbourne